Patti Joyce B.S, ACSM, NSCA, ACE
Patti teaches core, balance and exercise techniques that can be applied to real life. She designs programs tailored to each client's needs. Patti's fitness coaching skills helps clients stay motivated and consistent with goals. 
Patti's 30 years of fitness consulting experience include: Owning a corporate fitness firm offering on site programs, producing PowerWalking Made Easy DVD, designing programs for new fitness products, Fitness Columnist for Ledger Dispatch and Fitness Spokesperson for television and radio programs.
Patti, is a Fitness Consultant, Pilates Instructor, Yoga Instructor, Personal Trainer and Corporate Fitness Specialist. She is certified by American College of Sports Medicine, National Strength and Conditioning Association, American Council on Exercise, PowerHouse Pilates, Yoga Integrated Science and has a Bachelor of Science Business Degree.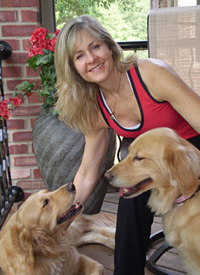 A Personal Interest:
Patti and her dog Topaz are a Pet Partner Team certified by Pet Partners, the human-animal health connection. They volunteered with Wonderful Animals Giving Support (WAGS) in schools and hospitals. Her favorite program is READ to WAGS with elementary school kids.
Patti likes to help people and their pets live a quality life.